Dear Poor People's Campaign: A National Call for Moral Revival Coordinating Committee Members,
Starting this week, we are going to begin holding weekly webinars throughout March on Sunday evenings at 7:30 p.m. EST. The first half of these calls will include a presentation focusing on an aspect of the Poor People's Campaign: A National Call for Moral Revival that the organizing team has received questions about from state coordinating committees. During the second half of the webinar we will hear from one national steering committee member, one state coordinating committee member and one organization supporting the campaign as a way to get to know the many voices of the campaign.
We will send out information about who will be featured during the first webinar later in the week.
The call-in information is:
When: Sunday, March 11 at 7:30 p.m. EST
How: URL for Web/Video: https://zoom.us/j/6478035273
Dial-in number: +1 646 558 8656
Meeting ID: 647-803-5273
These webinars are not mandatory but we hope that they will be helpful especially for those who are still struggling with how to talk about the campaign and that would like a reminder about the national scope and broader vision of the campaign.
NATIONAL CONFERENCE CALLS
(1) Update Conference Call with Coordinating Committee Chairs
When: Friday, March 9, 2018 at 8:00 p.m. EST
Who: All state coordinating committee tri–chairs
RSVP: Click here if you are a coordinating committee chair and will be participating. Once you register, you will receive call-in information.
(2) Update Conference Call with Coordinating Committee Members
When: Monday, March 19, 2018 at 8:30 p.m. EST
Who: All state coordinating committee members
RSVP: Click here if you will be participating. Once you register, you will receive call-in information.
OPTIONAL CONFERENCE CALLS
On Wednesday, March 7th at 9:00 p.m. EST Rev. Erica Williams will facilitate a call with state coordinating committee members interested in sharing and learning new outreach strategies. We are encouraging coordinating committee chairs or coordinating committee members who are leading outreach and organizing subcommittees or working groups to join the call.
Click here if you will be participating.
NATIONAL CAMPAIGN EVENTS
We have posted the video of Friday night's "Voter Suppression is Alive and Keeping Us Poor" panel that we held in Selma, Alabama as part of the Bridge Crossing Jubilee weekend. You can click here to view it. The panel includes Rev. Dr. William J. Barber, II, Rev. Dr. Liz Theoharis, Dr. Shailly Gupta Barnes, Dr. David Kyuman Kim, Atty. Faya Rose Toure, Rev. Mark Thompson and Rev. Jesse Jackson.
EDUCATION
The national education team will be holding a public webinar series leading up to the 40 days of moral action. The first one will be held this Thursday, March 8th at 8pm EST, via Zoom video conference, with an option to join by phone. After you register, they will email you the information about how to join the call. You can register by filling out the form here
The topic is "Freedom Church of the Poor" and it will focus on the fundamental principles of the campaign, featuring Rev. Dr. Liz Theoharis, campaign co-chair and Rev. Claudia de la Cruz, national steering committee member.
We hope that as many state coordinating committee members as possible will join. It will help give you ideas about how to talk about the campaign and fundamental principles in your own state.
It's a public event, so feel free to share the information over your social media pages and encourage others to do the same. Below is a promo image that you can use to help spread the word.
THEOMUSICOLOGY, ART & CULTURE
Britt Baker-Soleil, theomusicologist from Illinois and Erica Nanton, visual artist from Missouri, have put together a "Everybody's Got a Right to Live" song challenge and all state cultural arts teams are encouraged to participate. Click here to read about it!
GENERAL UPDATES & REMINDERS
Checking your official email:
It is important that all coordinating committees are regularly checking their official PPC: NCMR email address. These email addresses will be shared with national organizations and denominations interested in connecting their local affiliates with your state campaign and they will be listed on the national campaign website. If you have still not accessed or official email or have questions, contact your national organizer.
New Materials in Spanish:
We have translated the updated fundamental principles as well as the one page flyer for states into Spanish. These documents can be found in the Materials Google Folder. If you haven't reviewed the materials in this folder recently, please take the time to check them out!
FROM THE STATES
On Thursday, the campaign held an organizing tour stop in Lowndes County, Alabama. The stop was organized by Lowndes County residents including Catherine Coleman Flowers, a member of the national steering committee and the Alabama coordinating committee. Ms. Flowers and other poor Alabamians have been organizing against the inadequate wastewater treatment and sanitation in their county which has resulted in raw open sewage spewing from houses regularly exposing children and adults to human waste. Click here to read an article that Ms. Flowers wrote about these injustices in Lowndes County and rural poverty in general.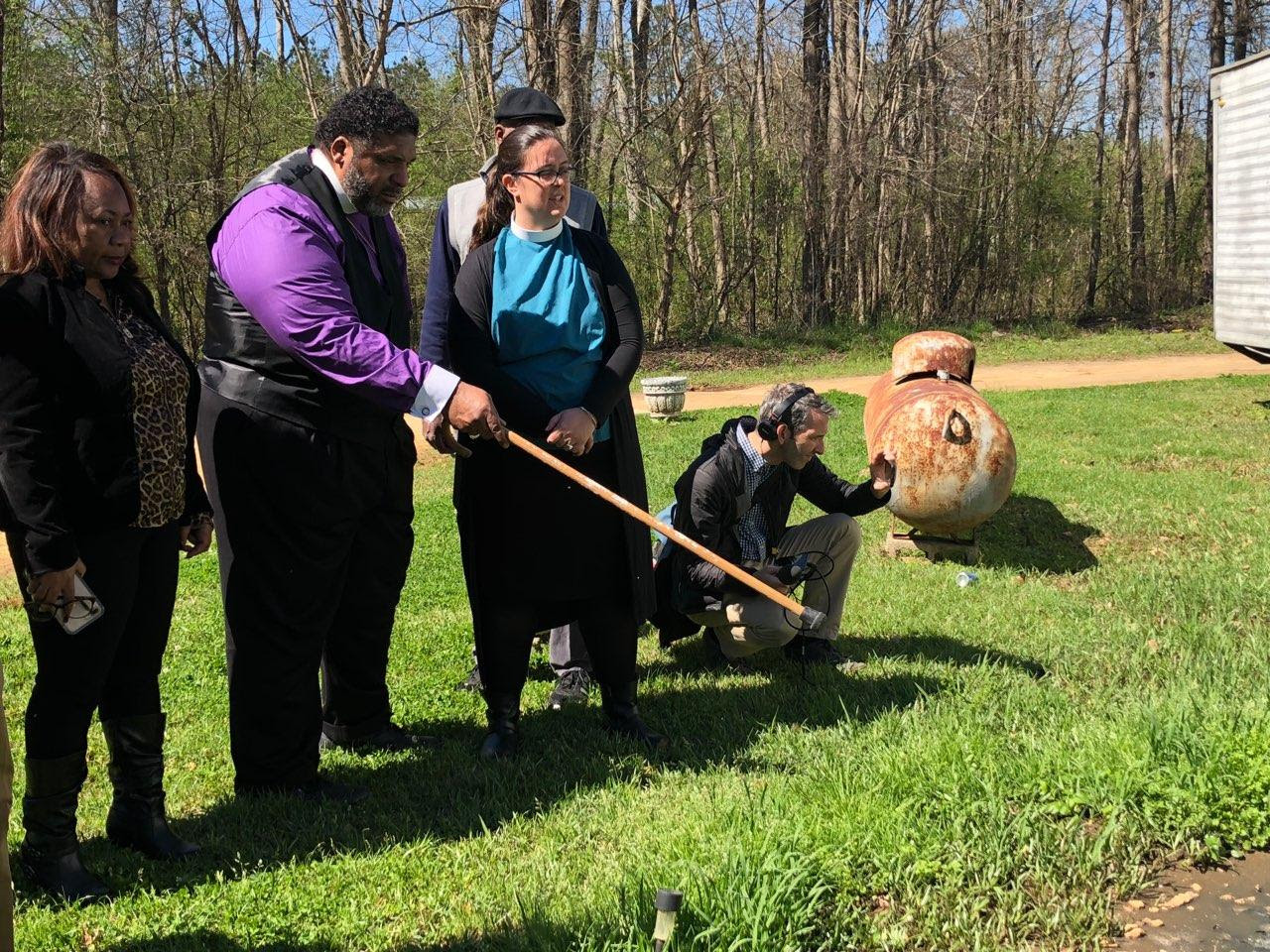 Above is an image of Catherine Coleman Flowers standing with Rev. Barber and Rev. Theoharis as they visit a home with raw sewage coming up through the yard right next to their house as shown below.
In the article, Catherine Flowers writes that a recent study "found that hookworm and other parasitic infections are still prevalent in Lowndes County. Almost a hundred years ago hookworm was identified as a stealth cause of poverty in Alabama due to its debilitating effects on productivity and child growth and intellectual development. It's still there."
THE CAMPAIGN NEEDS YOUR HELP!
JOIN THE POOR PEOPLE'S CAMPAIGN TRANSCRIPTION TEAM
Thanks to those who emailed us letting us know that you can help with document translation. In our ongoing efforts to make the campaign accessible to all, we would like to transcribe some of the campaign videos to ensure that they are accessible to people who are deaf or hard of hearing. If you are willing to be part of this transcription team, please email laurel@poorpeoplescampaign.org. You do not need any special computer program or skillset–just the patience to watch these videos slowly and transcribe what is said.
Forward together!
PPC: NCMR National Organizing Team